LS-302 Grey Automotive Engine Lubrication System Cleaning Machine Engine Flush Machine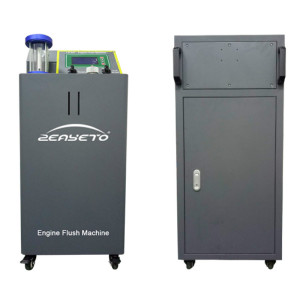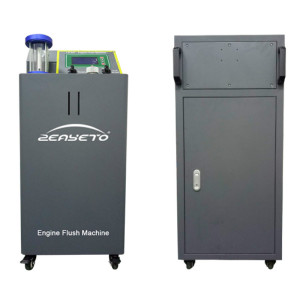 | | |
| --- | --- |
| Categories | lubricant system flush machine |
| Brand | Zeayeto |
| Model | LS-302 |
| color | grey |
| Power | 150w |
| Voltage | DC 12V |
| Noise | <70db |
| Size | 43*40*100(cm) |
| Warranty | 12 months |
| Certificates | CE, Rosh |
| Update Time | Dec 7,2023 |
LS-302 Grey  Automotive Engine Lubrication System Cleaning Machine Engine Flush Machine

When do you change the lubricant?
All oils have a shelf life, and lubricants are no exception. It is best to change the oil when the new car and the newly repaired vehicle are about 2,500 km, which will help to better remove the metal debris generated by the engine during the running-in period. General mineral oil or semi-synthetic lubricating oil, the replacement cycle is 5000-7500 km, and the total synthesis is 8000-10000 km. The oil filter is usually replaced at the same time as the oil is changed, because the oil filter has been contaminated with impurities for a long time.
Premature oil change can cause unnecessary waste, and prolonged oil change timing can cause early engine wear and carbon deposition, and the oil will be gradually oxidized and fail.
Parameter:
| | |
| --- | --- |
| Voltage | DC 12V |
| Power | 120w |
| Filter accuracy | 5μm |
| Noise | <70db |
| Oil tube | 2*2.5m |
| Warranty | 1 Year |
| Dimension | 430*400*1000mm |
Function:
1. Fully automatic cycle cleaning, the addition of the machine and the car form a new dynamic cycle
2. The cleaning time can be set according to the specific conditions, such as the degree of pollution of the car lubricant and the mileage.
3. Externally designed food grade high-precision filter cotton filter to ensure cleaning effect
Advantage:
1. The oil changer requires only 20 minutes to change the oil.
2. Dynamic circulation cleaning can remove sludge and impurities from the interior of the car, oil passages, etc.
3. Simultaneous combination of oil change and cleaning functions, saving time and efficiency

Compared with traditional methods:
| | | |
| --- | --- | --- |
|   | Machine | Manual |
| Time | 20-30 minutes | 50-90 minutes |
| Effect | Exchange 98% old oil | Exchange 53% old oil |
| Function | Dynastic cycle cleaning,equal oil change | Only fluid exchange |
| Cost | Oil, cleaning fees | Oil, labor, cleaning fees |
Notice:
Inspection before cleaning the engine (lubrication system cleaning must be performed before replacing the new oil)
1. Pull out the oil dipstick to check if the oil has deteriorated (aqueous) and other unconventional conditions.
2. Turn on the engine to check for abnormal noise.
3. Check engine for oil leaks. (such as engine filter seat, oil radiator, valve cover, crankshaft front and rear oil seal, etc.
There is oil leakage and oil leakage).
1. Observe the carbon deposit at the oil cap and start to communicate with the customer in a timely manner. Risk avoidance.
Quality Assurance:
1. All the production process have a professional person to test the machine and parts.
2. Products of our company all passed CE, FCC and other certificates.
3. Our machine are tested before exportation.
4. Strict control of quality inspection data for each production line