Details of Zeayeto injector cleaning detector
This equipment is an electromechanical integration product that combines ultrasonic cleaning technology with microprocessor oil pressure control cleaning detection technology. This equipment can simulate various working conditions of the engine and free cleaning of the fuel injector and fuel supply system.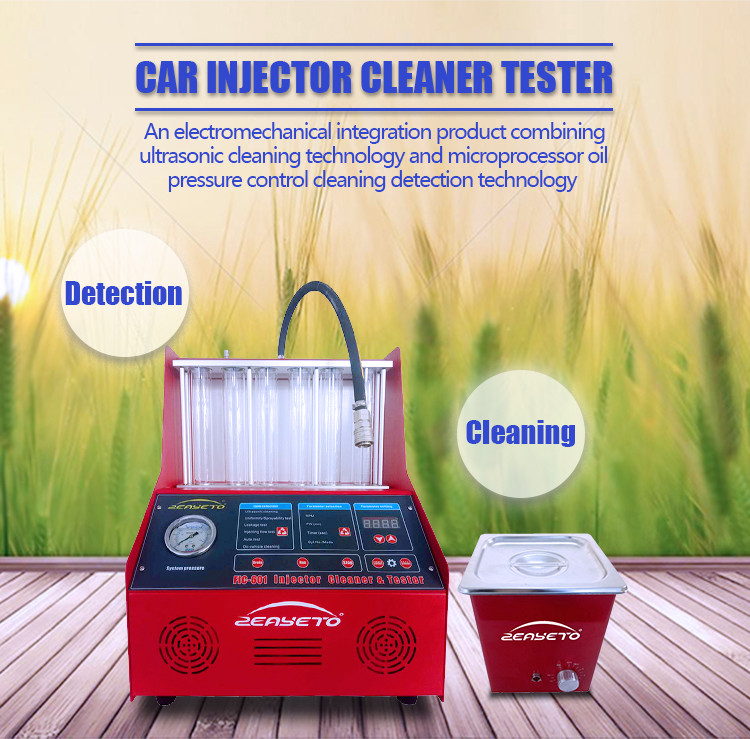 1. Oil return quick connector
2. Oil quick connector
3. Inline oil separator assembly
4. Glass tube
5. Control panel(console)
6. Aviation outlet(pulse signal line socket)
7. Pressure gauge
8. Integrated power socket and fuse holder(with fuse inside)
9. Power switch
★Product instructions and operating procedures and details in the manual.
Product corresponding function introduction
1. Ultrasonic cleaning
2. Uniformity/atomization detection function
3. Free cleaning function
4. Sealing test function
5. Fuel injection detection function
6. Automatic cleaning detection
Product Features
1. Ultrasonic strong cleaning technology, strong cleaning ability
2. It adopts microcomputer voltage regulation control technology, stable oil pressure and wide adjustable range. It can adapt to vehicles equipped with various gasoline injection systems and realize the automation of injector cleaning detection process.
3. The microcomputer automatic control and digital display technology can automatically control the cleaning and detection process and monitor the main status parameters in real time.
4. The oil drain automatic control technology is adopted and the automatic oil discharge can be realized through the program in some test items. In the running or stop state, you can run the oil drain button on the control panel or [stop] the oil drain.
5. With user-friendly design, system operating pressure can be quickly restored to system defaults.
Product Parameters
Voltage:AC 220V±10%50Hz/60Hz

Host power:230W

Ultrasonic cleaning power:100W

Dimensions:400*410*580mm

Timing range:1-9999s

Pulse width range:0.5~25ms step 0.1ms

External magnetic field strength:<400A/m

Machine weight:27kg

Ambient temperature:-10℃~±40℃

Relative humidity:<85%

Analog detection speed range:10~9990rpm step 10rpm
Open fire is strictly prohibited within 2 meters
Effect
Efficient cleaning, quickly removes deposits and dirt from the injector.
Benefits:emission of exhaust gas, fuel economy and favorable service life of three-way catalytic converter, power, idling temperature, good start of cold car, etc.
Do not blindly clean the injectors, which may result in damage to parts and security risks.
How often do you clean the injector?
The normal driving mileage is over 80,000 kilometers.Disgnosed to confirm that the injector is not working properly.
No-clean cleaning of injector and fuel supply system.
The operation of dis-assembly and cleaning is very complicated and it is easy to cause oil leakage.
Why choose us
1. Good quality, preferential price
We adhere to the principle of quality first and provide customers with quality products.
2. Ten years of technology precipitation, trustworthy
We focus on the development and production of automatic transmission oil changers, which have been continuously created and continuously improved over the past decade.
3. Quality service
Profession pr-sales and after-sales service team, customer-center, to provide you with peace of mind, heartfelt service.